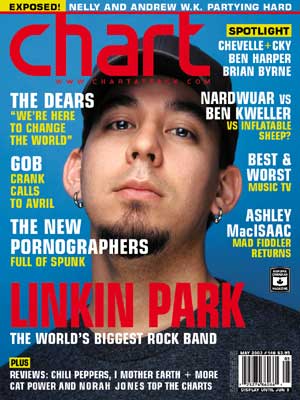 [09.23.03]
* Meteora falls 7 slots this week to number 19 on the billboard top 100 album sales chart.
* Staind's "So Far Away" holds it's second week above Linkin Park's "Faint."
* The LPU Projekt Page Has Been Added and updates on this site will be happening more often.
[09.22.03]
*Numb has premiered today, you can catch the video online at Yahoo's Launch.
[09.07.03]
*Chester did break his arm. So do not post question's about this one LP message boards, because the rules are 'no personal lives' and they consider this personal.
[08.28.03]
*Linkin Park won "BEST ROCK VIDEO" For "Somewhere I Belong" at MTV's VMA awards.
*Faint is still number on the "Billboard Modern Rock Chart."
[08.27.03]
* Linkin Park will not be performing at the VMA's tonight.
* Numb has been pushed to the 15th of September, however it is already on UK TV.
*Rumor is that LP will be releasing a Live DVD Performace. In addition LP will be releasing a DVD with the LPU 3.0 Package Later This year, although it is not confirmed.
[08.08.03]
*Added Exclusive downloads, "Chester Talking About MP3's and Internet Music Sales" "Brad talking about the difference on Meteora" "Rob Talking about Summer Sanitarium" and more!
[07.30.03]
*Today is Reanimation's Birthday!
*I will have the indepth interview with Chester from Kerrang, up on the forum, really soon!
*All kinds of new audio added from the Frat Party, and one exclusive audio, Joe Hahn talking about Meteora's Success!
*Plus Faint has hit number one again last night on the "Rockin Top 9 at 9 with Paige, on "New Rock 93.3 The Planet."
[07.24.03]
MTV has announced the nominees for the MTV 2003 VMA's. "Somewhere I Belong" picked up one nomination for "Best Rock Video" taking on Evanescence, Metallica, The White Stripes, and Good Charlotte. Be sure to watch the VMA's live on August 28.
Also Site is updated with even more exclusive bits and more music files!
[07.17.03]
Loads of updates! Numb is the next single. Click here for an magazine article that shows some pictures from the new video, Numb is due out September 1st.
Rumors are quickly spreading about the upcoming DVD due for release in November, Chester had this to say in the yahoo interview,
"Let's just say that we want to have something done for Christmas-time, and it definitely will be done."
All kinds of new downloads have been added *Xero, Live Performances* and higher quailty samples of Meteora, Hybrid Theory and Reanimation have added.
[06.30.03]
This Site EXCLUSIVELY has the full sized wire-image pictures from the "Boost Moble" performance on saturday...
[Check The Forum]
For These Pictures, However you must be a registered user to gain access to the pictures section.
[06.25.03]
[06.24.03]
Brad Says New DVD: In The MSN Chat with Linkin Park guitarist last night he said, "We're hoping to put out a DVD this Christmas although we have no idea what that DVD will be.We've definitely been filming a lot of live footage for release in the future on DVD."
"I imagine that our next DVD we release could have a similar tone to it [Frat Party at the Pankake Festival]. We were really happy with how that DVD turned out and at the same time we're always challenging ourselves to make better and better stuff."
Before that chat, however, Daniel(mfcbbum) had a heads up on the new DVD,
[Click Here]
To view his message.
Posted By: Daniel(mfcbbum)
[06.23.03]
New Downloads have been added to the site: Check for the link under the "Music Downloads" page. The new downloads include: "Crawling (Blue Grass Version)", "My December" ,"The Wizard Song" and some commentaries from Linkin Park.
[06.21.03]
Linkin Park nominated for two Teen Choice Awards: For instructions on how to vote,
Click Here.
Posted by: Daniel(mfcbbum)
[06.17.03]
We have scrapped the old Message Board and are creating a new one.
[06.10.03]
Chester is released from the hospital.
Linkin Park vocalist Chester Bennington has been released from the hospital where he was being held. Doctors have said that Chester should be ready to go by the time the Summer Sanitarium Tour starts on July 4th. This may mean that there will be no need for surgery as expected a few days before.
[06.08.03]
Stuff, has placed Mike Shinoda in their rankings of "Hot or Not." Mike, was placed 35% If your wondering why Mike rated so low, they had a really bad picture of him.
[6.08.03]
Did you catch the MTV Movie Awards?
They featured songs off of "Meteora."
Best Fight Scene - Shanghai Noon
"Don't Stay"
Best Action Sequence - Lord Of The Rings: The Two Towers
"Faint"
Best On-Screen Team - Lord Of The Rings: The Two Towers
"From The Inside"
Best Movie - Lord Of The Rings: The Two Towers
"Somewhere I Belong"
According To: www.lpassociation.com
[06.05.03]
LP fans stepped up and requested "Faint" on Bee 93.7 since the "music director" claimed that unless more people started requesting "Faint" they would not be playing it. After tons of e-mails and phone calls from LP fans Tias decided to put "Faint" on the "Battle Of The Newbee's" soon. The battle puts two songs head to head and listeners call in and vote for the better song. If a song wins 5 consecutive nights it is added to the playlist!
***To Request it call Toll Free:
1-800-386-0937
posted by Daniel(mfcbbum)
[06.03.03]
Chester Bennington, vocalist for the rock band Linkin Park was admitted to a Los Angeles area hospital last Friday afternoon after an attack of severe back and abdominal pains. Bennington remains hospitalized as doctors are still trying to determine the cause of these ailments.
All touring and video shoot plans in Europe have been put on hold this month as we make sure Chester fully recovers,states a spokesperson for the band we wish him the best, and will keep everyone posted as to his condition.
All get-well wishes can be sent to Chester via e-mail at
chester@linkinpark.com
[06.03.03]
Linkin Park's multi-platinum debut album "Hybrid Theory" has been nominated for one of the 22 greatest CD's on MTV|2. Be sure to vote for Hybrid Theory before the deadline!
[06.03.03]
According to MuchMusic Canada Linkin Park is #1 on the MuchMusic countdown this week!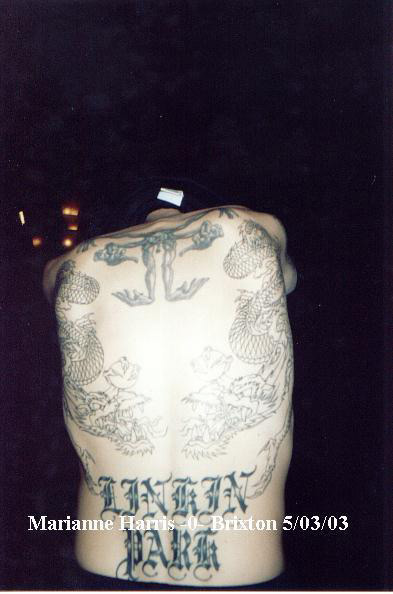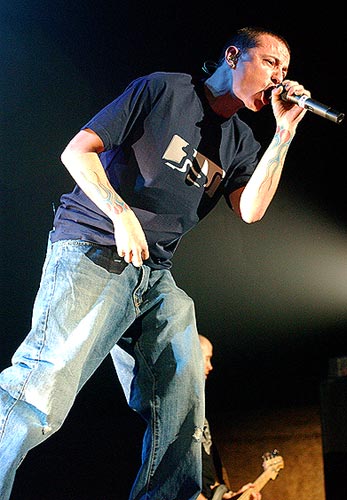 [05.30.03]
Be sure to check out this week's issue of Rolling Stone Magazine which features Chester Bennington. "Monsters of the Summers- Rock Hits the Road" previews this years hottest rock tours and features a interview of Chester on page 58.
[Click here to visit Rolling Stones Official Site]
And
[Click Here]
To see the other picture of Chester.
[05.29.03] Meteora Has Officially Become Platinum:
The Recording Industry Academy of America, also known as the RIAA, has now officially designated Linkin Park's sophmore album, "Meteora", double-platinum. This news comes just 2 months after the release of "Meteora" to the US on March 25th, 2003. The platinum certifications show that over 2,000,000 copies of "Meteora" have been sold in the past 2 months, although album sales are dipping after "Somewhere I Belong", the first single, has started to cool off rotation-wise on music stations.

"Meteora" dropped 2 spots this week to spot #13 on the Billboard 200 Charts for the week of May 21st -27th. Sales should pick up with the help of the band's newly released single for "Faint". "Faint" is now at spot #28 on the Billboard Modern Rock Charts, while "Somewhere I Belong" sticks at #3 for another week after 13 weeks on the charts. "Somewhere I Belong" is also at position #4 on the Mainstream Rock Charts after slipping two spots from last week.
[05.23.03] Mike Shinoda descibed the concept behind the faint video saying, "the song is about feeling ignored...we decided on mark's idea because of how it visually interprets this theme. for most of the song, the band is ignored by an unusual antagonist--the camera. it shoots our backs and never focuses in on our faces until chester snaps in the bridge. we thought the concept was very strong because of the unconventional way in which mark attacked the subject. and he really came through with creating an energetic, dark atmosphere--without making a dark video that doesn't look like every other dark video."